Regular price
Sale price
$21.99 USD
Unit price
per
Sale
Sold out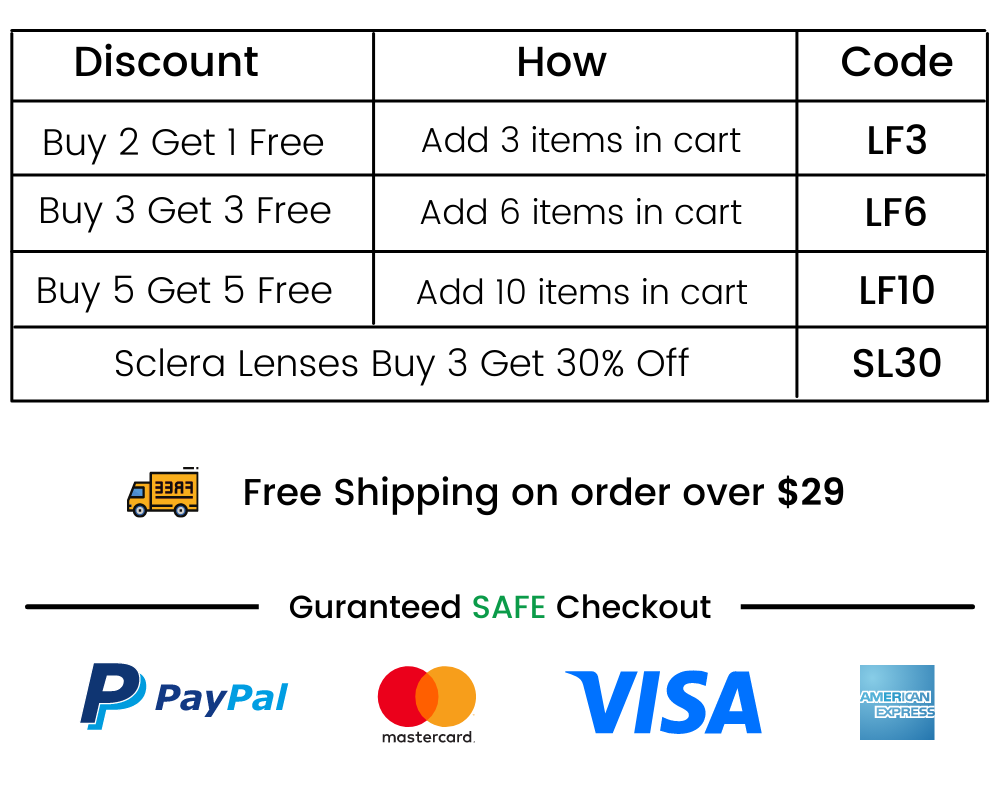 Material: HEMA
Power Range: 0.00
Water Content: 40%
Thickness: 0.08mm
Base Curve: 8.6mm
Diameter: 14.2mm
Period of Use: 12 months
Expiry Date: 5 years
Packaging: 1 Pair (2 lenses), immersed in buffered saline solution.

The color will vary on each individual, please know Lenses on different eye color will show different effects.
How To Wear & Care Lenses

4 Steps to Wear Contact Lenses

Before you start, wash your hands properly with soap, then rinse and dry your hands with a lint-free towel.
Put the lens on the tip of your finger and check that the lens isn't inside out. If the edge curves out, it is inside out. It should look like a bowl with straight edges.
Gently hold your upper eyelid with one finger so you don't blink or get your eyelashes in the way, and carefully pull down your lower eyelid with your other fingers.
Move the contact lens toward your eye steadily. Look upward as you place it on your eye, and slowly release your eyelid and close your eye for a moment to allow the lens to settle. Repeat for your other eye.

Note: After you get the lenses, please do not put on them immediately. The liquid in the package is saline and disinfectant, and it will irritate your eyes. Please put the lenses in the contact lens care solution about 6-8 hours before you wear them.

4 Steps

to Take off Contact Lenses

Ensure your hands are clean and dry, start with your right eye, then look up and carefully pull down your lower eyelid with your middle finger.
Bring your index finger to your eye slowly until you touch the lower edge of the lens, and slide the lens down to the lower white part of your eye.
Gently squeeze the lens between your thumb and index finger and remove it. Repeat for your other eye.
Discard daily disposable contact lenses and make sure you clean and disinfect bi-weekly, monthly and yearly contact lenses.

Cleaning and Storage

Fill your contact lens case with fresh multipurpose solution
Put one lens in the clean and dry palm of your hand, and apply a few drops of fresh multipurpose solution. Gently rub the lens back and forth on your palm with one finger to clean the lens surface.
Rinse your lens thoroughly with more of your solution, and put it into your clean contact lens case.
Repeat this for your other lens, close the case and leave your lenses to soak overnight.
Shipping

Shipping Range: The range reaches the United States of America (including Alaska, Hawaii, and APO, EPO, DPO address), and Canada, Australia, EU, and many other countries around the world.

Delivery Time = Processing Time + Shipping Time.

Processing Time: Before shipping your order, normally we need 1-3 business days to prepare your products.

Shipping time:

Standard Shipping: usually 10 - 14 business days.

(1) Standard Shipping cost $5.95.

Free Standard Shipping on order over $29.

Fast Shipping: usually 4 - 9 business days.

(1) Fast Shipping Fee $9.99

We will send the tracking number by email after the order shipped, and you can also find the tracking number on your account. Tracking information will take several days to updated and queried online.

The delivery time frame is based on the best ESTIMATION. There are factors that can inevitably extend the shipping process, while we are always trying our best to fulfill orders in a timely manner, customs clearance, carrier's transport conditions, weather conditions, global / regional public safety issues may still disturb the process. Feel free to contact us service@lenself.com should any concerns arise.

International shipments may subject to import taxes, duties, and customs fees, which are levied once your package reaches the country of destination and are the responsibility of the Recipient.

Please provide your full address to our shipping information box at the time you place an order via the Website, and please choose the appropriate city and province and zip code are correct to avoid shipping errors. We are not responsible for any package sent to the wrong address because you misspelled the destination address at the time when you checkout.

     3.Local Delivery (US Customer Only): 3-5 Days
Return & Refund

If you are not satisfied with the items you received, please feel free to reach us and describe the issue in detail, including your order number and product name, we are always here to help you!

Returns & Exchange Conditions

Any return or exchange of items can only be made within 30 days after the order is received.

All returned items must be in unopened/original condition, with original packaging or else they will be rejected return.

If you receive a defective item, please email us (service@lenself.com) with a photo of the item as proof and we offer a free replacement as compensation once the item is confirmed as defective. Goods are classified as defective if they are received in damaged condition, or where a manufacturing defect is noticeable on the items. Please note that items that are damaged as a result of improper usage and mishandling by the customers are not considered to be defective.

If you ordered an incorrect size, product, color or simply want to exchange the item, we can also allow a return. You are responsible for the shipping fee, and we will refund the original product cost upon receiving the returned item. All shipping fees are non-refundable and please note any extra charges incurred in an exchange or return (eg. re-shipping cost, resending cost, duties and taxes) shall be borne by you.

Didn't Receive Items

If the package is delivered, but you don't receive the package, please check at your mailbox, front door, or any other places the package would be. Otherwise, you will have to report losses to the post office or police station.

If the package was undelivered because of an incorrect or incomplete address, the package will be destroyed by the carriers rather than return to us, because we didn't pay for the return shipping. Please make sure to leave the correct address, so that you can receive the package.

For returned items, we will check the items whether in good condition or not once we receive the returned parcel, and then we will handle the refund to your account(within 48 hours) in accordance with the return conditions.

Any purchase on lenself indicates that you have read, understood and agreed with our Cancellation & Return Policy stated above.
Track Order

Once an order has shipped, we'll send you an e-mail with the tracking number. Just click on the link to the carrier's website to track the progress of your shipment. It may take a while for your tracking number to be activated on the carrier's site.

Please enter your tracking number below, and click to check. 
Share
View full details
FDA & CE Certified
Your safety always matters the most. All contact lenses are manufactured under the control of a certified quality management system, compliance with US FDA, CE, ISO.
Moist

40% water content and water-locking design maintains sufficient water content, ensuring prolonged moisture

Safe

The sandwiched design prevent the colors and to keep the pigment from touching your cornea directly

Comfortable

The lens is extraordinary thinness and breathability that can be worn comfortably the whole day
Shipped In 24H

Order will be shipped out within 24 hours on business days, and the tracking number will be emailed to you a few hours after is shipped

30 Days Return

For any reason you are not happy with your order, you have 30 days from the date of purchase to return the merchandise

Secure Payment

It's about protecting your money and advoid scams, the payment via Paypal (redit card, debit card,etc) is secure

Friendly Customer Service

All your quesions will get respond within 24H, feel free chat with us online or by email